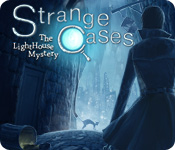 Full Version Strange Cases – The Lighthouse Mystery Download for PC
Strange Cases: the Lighthouse Mystery, a dark atmospheric adventure hidden object game. FBI agent Claire Ellery is the main character of this mystery detective game, who is not only having to contend with mysterious dreams has now also found that her partner and mentor is dead, but was it suicide or murder?
It's up to her to collect and decipher the clues that her mentor left behind to crack this strange case of the Lighthouse mystery.